You might remember this 1989 James Cameron movie.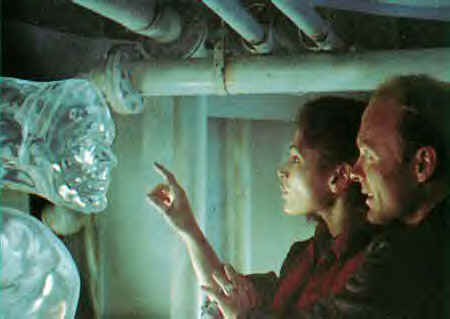 Yeah that one. I caught up with it about halfway through last night, and I don't think I'd seen it in maybe a dozen years. I remember having wanted to like it as a kid, as I was into stuff like aliens and Atlantis, but I also remember feeling as though the underwater intelligences were hardly emphasized, almost as an afterthought, and that the main plot revolved around some boring adult drama stuff blah blah Cold War. And also that the ending was horribly unsatisfying.
Man, I was right, especially about the ending. Okay so the final plot point is that Ed Harris needs to go like four miles deeper than their submarine already is, by himself, in just a diving suit whose helmet won't implode because it's filled with pink breathing fluid instead of air. They claim that it's similar to the stuff you breathed "for nine months" in the womb, but I thought oxygen was supplied by the umbilical cord? At any rate, down he goes, until he's greeted by one of these non-terrestrial intelligences who just kind of glows and blinks at him for a while before taking his hand and leading him to this grand underwater city.
Earlier we had seen what we assumed to be a ship belonging to these guys, though it was fluid and seemingly bioluminescent. One of the crew had suggested that "their whole technology" is based on manipulating water, so okay, I can suspend belief enough for that, it's a cool idea anyway. So as Ed Harris and this alien are careening through this underwater city we imagine, Okay, maybe these skyscraper-like structures are made of water, whether they freeze it or otherwise fix it molecularly by ionizing it or something?, look, I'm not a chemist.