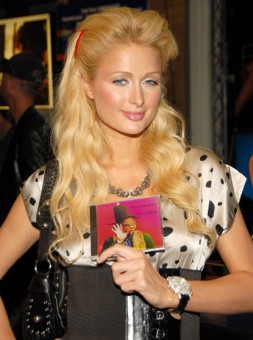 I know it's almost two years old now, but on the occa­sions that I'm remind­ed of this pho­to I'm still fas­ci­nat­ed by it. Some­how it is the per­fect album to have pho­to­shopped into Paris' hand: the cov­er is icon­ic and imme­di­ate­ly rec­og­niz­able, it may be the last thing she'd ever actu­al­ly lis­ten to, and it's pink. Still, I won­dered; I mean, maybe she was drunk enough that some­one just clev­er­ly slipped it to her? She was releas­ing an album at the time, so it was almost cer­tain that she was just hold­ing that. But it's like big­foot, crop cir­cles, UFO videos, you want to believe.
More than that, I think we derived a cer­tain sat­is­fac­tion from its impos­si­bil­i­ty. It's a dai­ly occur­rence to watch your cher­ished bands get snatched up by the pop­u­lar media, and this pho­to was a reminder that some of our enthu­si­asms are very, very safe.
I first spot­ted it on the WFMU blog ("I can't imag­ine Paris get­ting more than a few bars into Frown Land before rip­ping it out of her CD play­er and throw­ing it out of her win­dow at some home­less per­son"), but they of course got it from Gawk­er ("That is tru­ly a cul­tur­al jux­ta­po­si­tion"), who got it from gold­en­fid­dle.
Then when I ran across this image of her hold­ing In the Aero­plane Over the Sea, I had to find the orig­i­nal pho­tos that were manip­u­lat­ed. Final­ly, I did! Here, here, here, and here. There's even a thread about it on Snopes.
I only wish I knew where it orig­i­nal­ly appeared. Since gold­en­fid­dle is the old­est ref­er­ence to it I can find, I blame them for not cit­ing their sources.
And don't for­get Banksy's take on her album.