First, some good news: Song­bird is now in pub­lic beta! It's amaz­ing how sta­ble things have got­ten just over the last six months. And, sig­nif­i­cant­ly, it now fea­tures a Play­back His­to­ry API, which by the looks of things allows devel­op­ers access to the entire play his­to­ry of any song in a library, some­thing that is cru­cial to the kind of deep library scav­eng­ing I've been pin­ing for.
Since I last wrote, every­thing I see or read seems to inspire my half-baked ideas about the bet­ter ways we can browse our unman­age­ably large music libraries. After telling a friend about these ideas, he said:
Yeah, it's actu­al­ly real­ly frus­trat­ing. I inten­tion­al­ly keep the num­ber of artists on my iPod small so I don't have to sort to find things I'm cur­rent­ly into.
Me too.
Then there are the peo­ple who are doing a lot of (real) work towards nov­el inter­faces like the (hypo­thet­i­cal) ones I'm describ­ing; Last.fm's "Islands of Music" (explained here) demon­strates the kind of artist-sim­i­lar­i­ty topol­o­gy that would make brows­ing your library a more pleas­ant expe­ri­ence; Lee Byron explains in more detail how he devel­oped that Last Graph info­vis; nec­i­mal releas­es a Music Rec­om­men­da­tions exten­sion for Song­bird that promis­es to use Last.fm's data to find with­in your library artists sim­i­lar to the one play­ing; and the Auro­ra project, part of the Mozil­la Labs con­cept brows­er series, depicts a rad­i­cal three-dimen­sion­al view of files and data with auto-clus­ter­ing, which, if applied to a music library, would be noth­ing short of incred­i­ble.
I've also thrown togeth­er a piti­ful lit­tle mock-up of what Song­bird might look like when you start it up with the kind(s) of exten­sions I'm hop­ing for: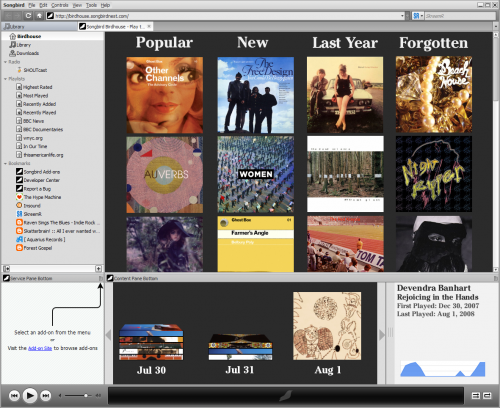 The two core com­po­nents depict­ed are the Start Page and the Time­line View. The Start Page I feel would be seri­ous­ly valu­able, one of the ideas behind all these blath­er­ings of course being that one does­n't always have a des­ti­na­tion in mind when open­ing their music library. The Start Page would offer a num­ber of con­ve­nient "jump­ing-off" points, pulling you into your library to explore it fur­ther — by artist sim­i­lar­i­ty, maybe, or by play his­to­ry prox­im­i­ty, after just a cou­ple clicks.
The Time­line View is a zoomable time­line, shown here zoomed to a dai­ly view. Zoom­ing out could show you albums played with­in recent weeks; then months, quar­ters, etc. These albums might be sort­ed by Peri­od­i­cal Impact, some­thing I explained in depth here; essen­tial­ly they would be sort­ed not by the raw num­ber of times they were played with­in any giv­en peri­od, but by how dis­tinct they were to that peri­od.
Even these mea­ger ideas are leagues ahead of what's avail­able, and I'm not even a data ana­lyst. Just imag­ine how a library's play his­to­ry data could be exploit­ed by some­body trained in these things.