Every­one's expe­ri­enced that thing where you're lis­ten­ing to some­thing, and you think to your­self, "Holy shit does this remind me of fall 2004." How strong­ly cer­tain music is cor­re­lat­ed with cer­tain peri­ods of your life depends on many things, includ­ing but prob­a­bly not lim­it­ed to when you first heard it, when you first liked it, and when your lis­ten­ing to it was most high­ly con­cen­trat­ed. So, for instance, in my case, most Destroy­er albums will recall times and places that are vague at best, and that depend most­ly upon first expo­sure rather than con­cen­tra­tion — this as a result of the fact that I lis­ten to every Destroy­er album all the time, approx­i­mate­ly.
Blue­boy's Uni­sex, on the oth­er hand, will prob­a­bly always remind me of the win­ter of 2006–7, as I lis­tened to it for the first time that sea­son, nine addi­tion­al times with­in that sea­son (rack­ing up about 150 tracks lis­tened, accord­ing to Last.fm), and vir­tu­al­ly nev­er again once spring hit.
Ever since I began sub­mit­ting lis­ten­ing data to Last.fm in Novem­ber of 2004, I've won­dered whether I'd ever enjoy direct access to all those num­bers. Then came Last.fm Extra Stats, mer­ci­ful­ly col­lect­ing all my lis­ten­ing data for me in a tab-sep­a­rat­ed file that can be pulled into Excel and manip­u­lat­ed to my heart's con­tent. Here, as a small exam­ple of the data, are my top ten artists (by tracks lis­tened) from win­ter 2006–7, along with total lis­tens for each artist (since Novem­ber 2004) (now that I'm final­ly get­ting around to pub­lish­ing this post, all the fol­low­ing data is very old):
Win­ter 2006–7
Artist
Win­ter (S) ↓
Total (T)
Trans Am
163
163
Blue­boy
148
163
The Luck­smiths
69
105
Ratatat
50
126
The Moldy Peach­es
49
51
White Flight
36
41
Tele­vi­sion Per­son­al­i­ties
35
35
Beach House
35
64
Revolv­ing Paint Dream
32
58

RJD2

31
52
Now for some method­ol­o­gy. We only have two num­bers avail­able to us here; let's call them S (sea­son­al total) and T (total total). As I said, the psy­cho­log­i­cal impact of a band/record over a giv­en time peri­od depends on both the amount of lis­ten­ing dur­ing that peri­od (S) and the per­cent­age of total lis­ten­ing with­in that peri­od (S/T). Nei­ther fig­ure is good enough on its own; I may have lis­tened to Destroy­er 102 times this sum­mer (I did), but that's insignif­i­cant giv­en my 1,500 over­all lis­tens. And I may have only lis­tened to The Lady­bug Tran­sis­tor this sum­mer (yield­ing a 100% con­cen­tra­tion), but 3 lis­tens is hard­ly enough to make an impact.
But, since both fig­ures are pos­i­tive indi­ca­tors of impact, we can just mul­ti­ply them (S2/T). This would give Lady­bug Tran­sis­tor a sum­mer 2007 impact index of 3, and Destroy­er, 6.92.
Let's see how this mul­ti­pli­ca­tion affects win­ter's top ten artists by tracks played:
Win­ter 2006–7
Artist
Win­ter (S) ↓
Total (T)
Impact (S2/T)
Trans Am
163
163
163.00
Blue­boy
148
163
134.38
The Luck­smiths
69
105
45.34
Ratatat
50
126
19.84
The Moldy Peach­es
49
51
47.08
White Flight
36
41
31.61
Tele­vi­sion Per­son­al­i­ties
35
35
35.00
Beach House
35
64
19.14
Revolv­ing Paint Dream
32
58
17.66

RJD2

31
52
18.48
Most notably, Ratatat is knocked down a few notch­es (on account of how con­sis­tent­ly I lis­ten to them), The Moldy Peach­es go up a few spots — and if we reorder the entire list (of 78 artists) by impact index, a cou­ple more eke into the top ten:
Win­ter 10 Impacters
Artist
Impact (S2/T) ↓
Trans Am
163.00
Blue­boy
134.38
The Moldy Peach­es
47.08
The Luck­smiths
45.34
Tele­vi­sion Per­son­al­i­ties
35.00
White Flight
31.61
The Six Parts Sev­en
24.00
Ratatat
19.84
Loney, Dear
19.70
Andrew Bird
19.31
This last table is what we're real­ly after, the­o­ret­i­cal­ly giv­ing us the ten artists who will most strong­ly remind me of the win­ter of 2006–7. It seems a bit bor­ing at this point, since it's pret­ty close in its results to the stan­dard top-ten-by-lis­tens chart; but the method­ol­o­gy is sound, and under more extreme lis­ten­ing con­di­tions (e.g., a Destroy­er obses­sion), it will prove to be a reli­able indi­ca­tor of impact.
And don't for­get, as time pass­es and I lis­ten to these artists more, their sea­son-spe­cif­ic impacts will drop. For instance, as things turned out, I lis­tened to Tele­vi­sion Per­son­al­i­ties heav­i­ly over the spring, increas­ing their T val­ue, and reduc­ing their impact in the above table (which uses old data). As a result of my TVP spring lis­ten­ing, their win­ter index dropped dra­mat­i­cal­ly from 35 to 7.95 — their spring index, as of Octo­ber 5, 2007, is 91.95.
Depict­ing this analy­sis visu­al­ly could go sev­er­al ways; some­how I want to see a pie chart. Mak­ing one from every artist would be imprac­ti­cal, leav­ing a cir­cle with a hun­dred or more sliv­ers. Tak­ing the top ten artists feels insen­si­tive to the quirks of any giv­en sea­son; what if I don't even lis­ten to ten artists that sea­son, for instance? What if I lis­ten to a thou­sand? I could select only those artists who have indices greater than, say, 20; but this also feels arbi­trary and vul­ner­a­ble to sea­son­al quirks.
I think a pret­ty safe thresh­old above which to choose artists is at 50% of the sum of all impact val­ues. In oth­er words: the sum of the impact indices of win­ter's artists is 783. If I take artists off the top of the list until I have half that, I stop after the fourth artist, The Moldy Peach­es. Admit­ted­ly, a four-sec­tor pie chart is kin­da dull, but I need to be con­sis­tent in the cre­ation of these charts so that impacts are accu­rate­ly rep­re­sent­ed from sea­son to sea­son.
So, roughly…here are what the last three sea­sons of 2007 "meant" to me: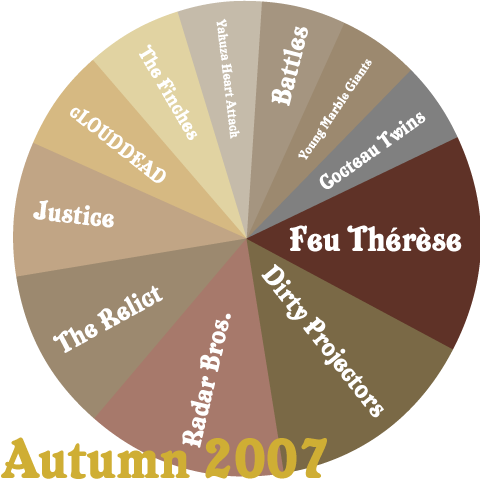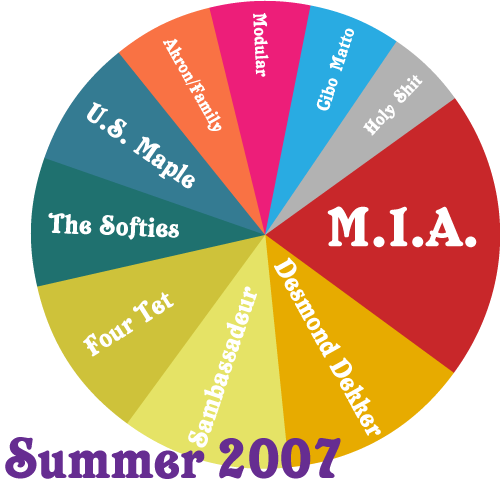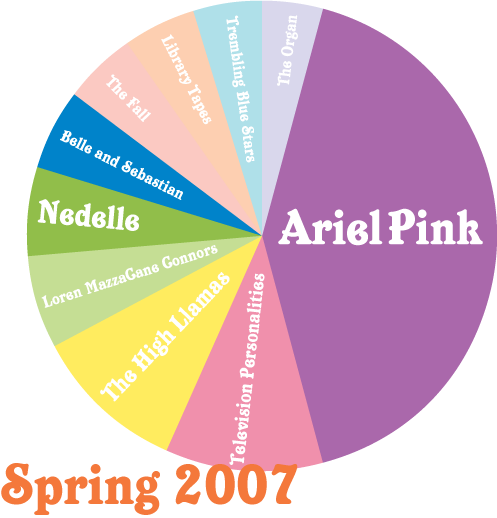 What I like about these is that they are not only inter­nal­ly con­sis­tent, but con­sis­tent with each oth­er; Ariel Pink will remind me of the spring of 2007 more than M.I.A. will remind me of the sum­mer, as rep­re­sent­ed by a larg­er sec­tor in his sea­son's pie. I could sim­i­lar­ly gen­er­ate these with a focus on albums, which would be slight­ly more spe­cif­ic and alter the results dra­mat­i­cal­ly. I know, for instance, that all my sum­mer 2007 lis­ten­ing to M.I.A. was off her new record, songs that nec­es­sar­i­ly did­n't con­tribute to any pri­or M.I.A. lis­ten­ing — so, Kala, were it to have a sec­tor in an album pie, would have one much larg­er than the less spe­cif­ic "M.I.A." one.
Grant­ed, there are more than a few prob­lems with this whole endeav­or, and here are the major three:
Last.fm does not track things that I lis­ten to on

CD

/vinyl. This is a seri­ous prob­lem, as the things I pur­chase tend to be the things I like the most, and go total­ly unac­count­ed for.
The num­ber of tracks you've lis­tened to by an artist is only kind of relat­ed to how much time you've spent lis­ten­ing to them. 4 tracks can fill 2 CDs (Lift Your Skin­ny Fists), or you can cram 91 tracks into 40 min­utes of music (Irrev­o­ca­bly Over­driv­en).
iPod lis­tens are not prop­er­ly doc­u­ment­ed. Even if I remem­ber to report them to Last.fm with Audio­Pod, mul­ti­ple lis­tens on a sin­gle track only get count­ed as one — this is par­tic­u­lar­ly dam­ag­ing on long trips, for instance.
The (S2/T) for­mu­la may have fur­ther appli­ca­tions, as I'll touch on in a fol­low-up to my orig­i­nal post about alpha­bet­i­za­tion and dig­i­tal music library nav­i­ga­tion.