Wikipedia's article on alphabetization explains:
Advantages of sorted lists include:

one can easily find the first n elements (e.g. the 5 smallest countries) and the last n elements (e.g. the 3 largest countries)
one can easily find the elements in a given range (e.g. countries with an area between .. and .. square km)
one can easily search for an element, and conclude whether it is in the list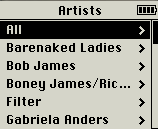 The first two advantages are things you almost never need to do with music libraries. And the third has been supplanted by now-ubiquitous search boxes: if you know what you're looking for, you search; and if you don't, an alphabetized list is not the way to find it.
Web visionary Ted Nelson (<mst3k>Dr. Ted Nelson?</mst3k>) has been paraphrased as pointing out that "electronic documents have been designed to mimic their paper antecedents," and that "this is where everything went wrong: electronic documents could and should behave entirely differently from paper ones." If the folder metaphor is inadequate for digital documents, no wonder it's so pitiful at handling music. The proximity between pieces of music in a library should least of all be based on the first letter in a band's name – it's as arbitrary as sorting them by the vocalist's month of birth – yet this is how it's universally done.
Music library organization needs to be re-thought from the ground up. We need to consider how it is that people used to listen to music before it was all on their iTunes. How are your CDs organized (or disorganized) on your shelf? How are they organized in your head? What is it that prompts you to listen to what you listen to when you listen to it? And how can we use computers to adopt and enhance these ways of thinking, rather than forcing us to think like computers?
Multi-Dimensional Sorting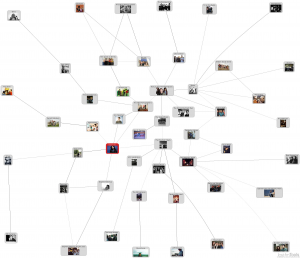 The most natural method for organizing music (if you can escape alphabetical thinking for a moment) is by similarity. Last.fm does this, and it is invaluable. When you are at an artist's page at Last.fm, you feel that you are in that artist's "neighborhood," with links to similar bands, tags, listeners, and related groups. The Last.fm architecture was designed to manifest organic, bottom-up communities around bands and genres. This is an experience that cannot currently be replicated in any music player, at least not easily (with the possible exception of Amarok). But because Last.fm's data is extraordinarily accessible, there are virtually no obstacles to incorporating this sense of "musical neighborhoods" into a piece of software.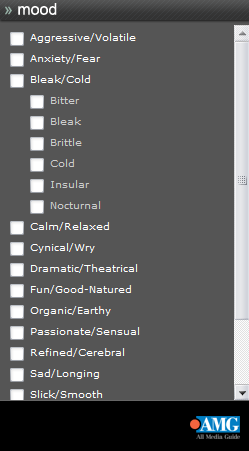 If you don't already have an artist in mind whose neighborhood you'd like to browse, you probably at least have some idea of the kind of mood you're after, and there are several approaches here. One (perhaps the least viable) is using Last.fm's tags. These are actually less often concerned with mood than they are with genre, a taxonomy well-known as being inconsistent and, I would argue, misguided: When I want to listen to Lullatone, it's not because I want to listen to electronic music; it's because I want to listen to "whimsical," "delicate," "innocent," "sparkling" music. Who cares what genre it is?
AllMediaGuide began a project called Tapestry some time ago, an application of their vast mood/situation/genre dataset. It is an ideal solution for browsing music, and its integration into desktop software would be hugely rewarding. It's possible to simulate Tapestry with foobar2000 and some elbow grease, but the results are not as robust as they could be.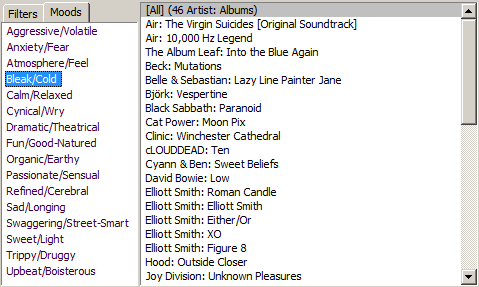 Again, if you already know what you're looking for, it would be difficult to find it through these channels; but this is what search is for.
Personalization
We also need to consider the less objective and more personal reasons that music becomes relevant in specific contexts, analogously to the way in which CDs become disordered on one's shelf. I, for instance, usually have about 20 albums littering the top of my receiver and speakers. These include, roughly, (a) stuff I just bought, (b) stuff I just listened to, and (c) stuff I haven't bothered putting away because I know I'll listen to it again soon.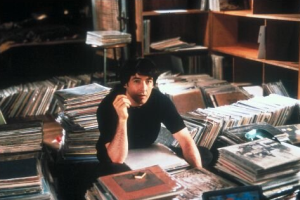 The main obstacle to browsing in this way is a prevalent shortcoming whose symptoms are far-reaching: the fact that music players "think" in terms of songs, not in terms of albums—or even in terms of artists, for that matter: My music software doesn't know that these 38 songs are all by Electrelane; it just knows that their artist metadata is alphabetically adjacent. Sure, you can sort iTunes libraries by data such as "last listened" and "added"; and you can use CoverFlow to simulate a pale approximation of a flesh-and-blood record collection; but the only way you can sort albums or artists is alphabetically. I've written about the ways in which MP3Toys addresses this problem, and it remains a commendable pioneer in music management, but its difficulties (a steep learning curve, a buggy interface, a rapid release schedule) outweigh its advantages.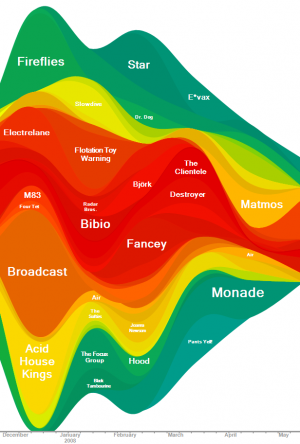 Browsing your own music library is a very impersonal experience, despite enormous potential for personalization. Rich info visualization "toys" such as Last.fm Extra Stats and LastGraph are seen as novelties, but would, in fact, be revolutionary as library browsing environments. There is nothing to prevent this from development, either; even users who are not plugged into Last.fm could have their listening history stored locally by their music software, which could then be used to generate small, cached, infinite-resolution SVG histograms, browsable by zooming, panning, and clicking. Far from being cumbersome and CPU-intensive, it would actually be rather elegant.
Continuing on the theme of chronology, what about a simple calendar charts view, with varying granularity by day, week, month, quarter? Presentationally, these charts could even be made easily to resemble vertical stacks of CDs, with spine art generated from a cropped cover image and overlaid text. This would arguably be eye-candy, of course, but just imagine how it would "feel" to see your music this way. If there's one thing Apple's been consistently right about, it's that functionality is not at odds with a pleasant user experience, but rather that they are meant to be mutually supportive.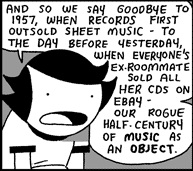 When I was helping to establish some playstamp tagging standards with the foobar community in 2005, it was jokingly suggested that when songs are played they be tagged with the current weather. Despite the sarcasm, I couldn't help but think, "What a great idea!" I know my listening habits are affected by the weather, and I can't imagine other people are not the same. There is, after all, a frequently-used "rainy day" tag at Last.fm.
What about a histogram based not on play count, but on hotness values over time? What about artist similarity webs based not on Last.fm data, but on proximity of play times within your personal history? What about taking lessons from the DONTCLICK.IT project, BumpTop, and the pile metaphor for unprecedentedly fluid user interfaces?
What Now?
All the ingredients are there. Everyone is rapidly moving towards an exclusively digital music collection, and the technology is embarrassingly outmoded. Music has become a major component of computing, at levels once reserved for word processing and gaming. Our relationship with our digital music collections is poised for reinvention, a looming difficulty that has been made invisible by custom and habit. Digital music management is hell, and users have complacently accepted this.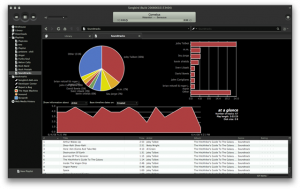 The obvious solution at this point is Songbird. Songbird's media views (present since 0.5) allow more easily than ever for custom browsing environments. Previously the only way to alter your music browsing environment was to switch programs entirely; besides which, nearly all available programs simply mimic the well-known disk/directory views or iTunes' browser pane view (which is just a glorification of a disk/directory view anyway). Songbird, on the other hand, boasts an unprecedented extensibility, coupled with media attention, ease-of-use, and the Mozilla platform, for which people have been developing extensions for ages (in computer years).
The prospects are thrilling and the potential for innovation is virtually limitless. Promisingly, there are some glimpses of where things might be headed for Songbird media views: Catalogue View demonstrates a novel visual presentation of your library, though it doesn't do much in the way of organizational presentation; and Metrics Media Page is the beginnings of the kind of infovis view that could be (but currently isn't) adapted to allow for actual navigation. Nevertheless, I have a bad feeling that this opportunity will be missed, as the status quo continues to obfuscate these possibilities.
Update: Part II