Wikipedi­a's arti­cle on alpha­bet­i­za­tion explains:
Advan­tages of sort­ed lists include:

one can eas­i­ly find the first n ele­ments (e.g. the 5 small­est coun­tries) and the last n ele­ments (e.g. the 3 largest coun­tries)
one can eas­i­ly find the ele­ments in a giv­en range (e.g. coun­tries with an area between .. and .. square km)
one can eas­i­ly search for an ele­ment, and con­clude whether it is in the list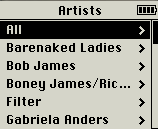 The first two advan­tages are things you almost nev­er need to do with music libraries. And the third has been sup­plant­ed by now-ubiq­ui­tous search box­es: if you know what you're look­ing for, you search; and if you don't, an alpha­bet­ized list is not the way to find it.
Web vision­ary Ted Nel­son (<mst3k>Dr. Ted Nelson?</mst3k>) has been para­phrased as point­ing out that "elec­tron­ic doc­u­ments have been designed to mim­ic their paper antecedents," and that "this is where every­thing went wrong: elec­tron­ic doc­u­ments could and should behave entire­ly dif­fer­ent­ly from paper ones." If the fold­er metaphor is inad­e­quate for dig­i­tal doc­u­ments, no won­der it's so piti­ful at han­dling music. The prox­im­i­ty between pieces of music in a library should least of all be based on the first let­ter in a band's name – it's as arbi­trary as sort­ing them by the vocal­ist's month of birth – yet this is how it's uni­ver­sal­ly done.
Music library orga­ni­za­tion needs to be re-thought from the ground up. We need to con­sid­er how it is that peo­ple used to lis­ten to music before it was all on their iTunes. How are your CDs orga­nized (or dis­or­ga­nized) on your shelf? How are they orga­nized in your head? What is it that prompts you to lis­ten to what you lis­ten to when you lis­ten to it? And how can we use com­put­ers to adopt and enhance these ways of think­ing, rather than forc­ing us to think like com­put­ers?
Multi-Dimensional Sorting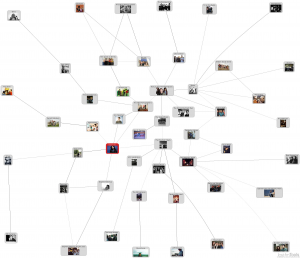 The most nat­ur­al method for orga­niz­ing music (if you can escape alpha­bet­i­cal think­ing for a moment) is by sim­i­lar­i­ty. Last.fm does this, and it is invalu­able. When you are at an artist's page at Last.fm, you feel that you are in that artist's "neigh­bor­hood," with links to sim­i­lar bands, tags, lis­ten­ers, and relat­ed groups. The Last.fm archi­tec­ture was designed to man­i­fest organ­ic, bot­tom-up com­mu­ni­ties around bands and gen­res. This is an expe­ri­ence that can­not cur­rent­ly be repli­cat­ed in any music play­er, at least not eas­i­ly (with the pos­si­ble excep­tion of Amarok). But because Last.fm's data is extra­or­di­nar­i­ly acces­si­ble, there are vir­tu­al­ly no obsta­cles to incor­po­rat­ing this sense of "musi­cal neigh­bor­hoods" into a piece of soft­ware.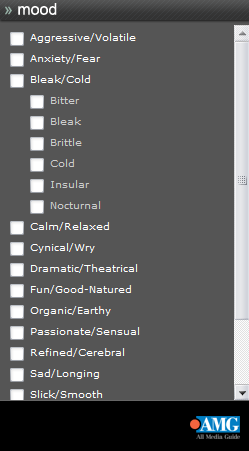 If you don't already have an artist in mind whose neigh­bor­hood you'd like to browse, you prob­a­bly at least have some idea of the kind of mood you're after, and there are sev­er­al approach­es here. One (per­haps the least viable) is using Last.fm's tags. These are actu­al­ly less often con­cerned with mood than they are with genre, a tax­on­o­my well-known as being incon­sis­tent and, I would argue, mis­guid­ed: When I want to lis­ten to Lul­la­tone, it's not because I want to lis­ten to elec­tron­ic music; it's because I want to lis­ten to "whim­si­cal," "del­i­cate," "inno­cent," "sparkling" music. Who cares what genre it is?
All­Me­di­aGuide began a project called Tapes­try some time ago, an appli­ca­tion of their vast mood/situation/genre dataset. It is an ide­al solu­tion for brows­ing music, and its inte­gra­tion into desk­top soft­ware would be huge­ly reward­ing. It's pos­si­ble to sim­u­late Tapes­try with foobar2000 and some elbow grease, but the results are not as robust as they could be.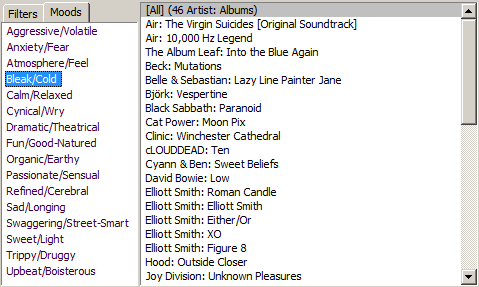 Again, if you already know what you're look­ing for, it would be dif­fi­cult to find it through these chan­nels; but this is what search is for.
Personalization
We also need to con­sid­er the less objec­tive and more per­son­al rea­sons that music becomes rel­e­vant in spe­cif­ic con­texts, anal­o­gous­ly to the way in which CDs become dis­or­dered on one's shelf. I, for instance, usu­al­ly have about 20 albums lit­ter­ing the top of my receiv­er and speak­ers. These include, rough­ly, (a) stuff I just bought, (b) stuff I just lis­tened to, and © stuff I haven't both­ered putting away because I know I'll lis­ten to it again soon.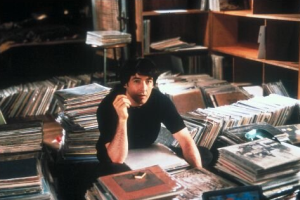 The main obsta­cle to brows­ing in this way is a preva­lent short­com­ing whose symp­toms are far-reach­ing: the fact that music play­ers "think" in terms of songs, not in terms of albums—or even in terms of artists, for that mat­ter: My music soft­ware does­n't know that these 38 songs are all by Elec­tre­lane; it just knows that their artist meta­da­ta is alpha­bet­i­cal­ly adja­cent. Sure, you can sort iTunes libraries by data such as "last lis­tened" and "added"; and you can use Cov­er­Flow to sim­u­late a pale approx­i­ma­tion of a flesh-and-blood record col­lec­tion; but the only way you can sort albums or artists is alpha­bet­i­cal­ly. I've writ­ten about the ways in which MP3Toys address­es this prob­lem, and it remains a com­mend­able pio­neer in music man­age­ment, but its dif­fi­cul­ties (a steep learn­ing curve, a bug­gy inter­face, a rapid release sched­ule) out­weigh its advan­tages.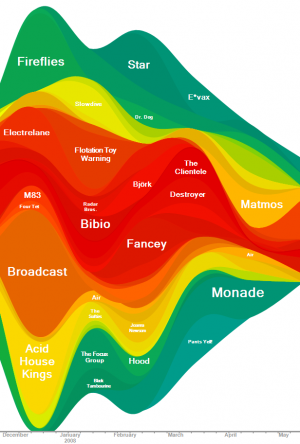 Brows­ing your own music library is a very imper­son­al expe­ri­ence, despite enor­mous poten­tial for per­son­al­iza­tion. Rich info visu­al­iza­tion "toys" such as Last.fm Extra Stats and Last­Graph are seen as nov­el­ties, but would, in fact, be rev­o­lu­tion­ary as library brows­ing envi­ron­ments. There is noth­ing to pre­vent this from devel­op­ment, either; even users who are not plugged into Last.fm could have their lis­ten­ing his­to­ry stored local­ly by their music soft­ware, which could then be used to gen­er­ate small, cached, infi­nite-res­o­lu­tion SVG his­tograms, brows­able by zoom­ing, pan­ning, and click­ing. Far from being cum­ber­some and CPU-inten­sive, it would actu­al­ly be rather ele­gant.
Con­tin­u­ing on the theme of chronol­o­gy, what about a sim­ple cal­en­dar charts view, with vary­ing gran­u­lar­i­ty by day, week, month, quar­ter? Pre­sen­ta­tion­al­ly, these charts could even be made eas­i­ly to resem­ble ver­ti­cal stacks of CDs, with spine art gen­er­at­ed from a cropped cov­er image and over­laid text. This would arguably be eye-can­dy, of course, but just imag­ine how it would "feel" to see your music this way. If there's one thing Apple's been con­sis­tent­ly right about, it's that func­tion­al­i­ty is not at odds with a pleas­ant user expe­ri­ence, but rather that they are meant to be mutu­al­ly sup­port­ive.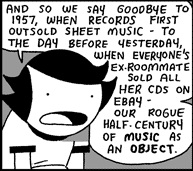 When I was help­ing to estab­lish some play­stamp tag­ging stan­dards with the foo­bar com­mu­ni­ty in 2005, it was jok­ing­ly sug­gest­ed that when songs are played they be tagged with the cur­rent weath­er. Despite the sar­casm, I could­n't help but think, "What a great idea!" I know my lis­ten­ing habits are affect­ed by the weath­er, and I can't imag­ine oth­er peo­ple are not the same. There is, after all, a fre­quent­ly-used "rainy day" tag at Last.fm.
What about a his­togram based not on play count, but on hot­ness val­ues over time? What about artist sim­i­lar­i­ty webs based not on Last.fm data, but on prox­im­i­ty of play times with­in your per­son­al his­to­ry? What about tak­ing lessons from the DONTCLICK.IT project, Bump­Top, and the pile metaphor for unprece­dent­ed­ly flu­id user inter­faces?
What Now?
All the ingre­di­ents are there. Every­one is rapid­ly mov­ing towards an exclu­sive­ly dig­i­tal music col­lec­tion, and the tech­nol­o­gy is embar­rass­ing­ly out­mod­ed. Music has become a major com­po­nent of com­put­ing, at lev­els once reserved for word pro­cess­ing and gam­ing. Our rela­tion­ship with our dig­i­tal music col­lec­tions is poised for rein­ven­tion, a loom­ing dif­fi­cul­ty that has been made invis­i­ble by cus­tom and habit. Dig­i­tal music man­age­ment is hell, and users have com­pla­cent­ly accept­ed this.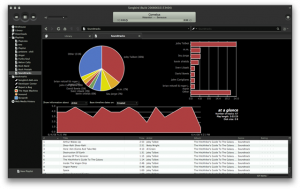 The obvi­ous solu­tion at this point is Song­bird. Song­bird's media views (present since 0.5) allow more eas­i­ly than ever for cus­tom brows­ing envi­ron­ments. Pre­vi­ous­ly the only way to alter your music brows­ing envi­ron­ment was to switch pro­grams entire­ly; besides which, near­ly all avail­able pro­grams sim­ply mim­ic the well-known disk/directory views or iTunes' brows­er pane view (which is just a glo­ri­fi­ca­tion of a disk/directory view any­way). Song­bird, on the oth­er hand, boasts an unprece­dent­ed exten­si­bil­i­ty, cou­pled with media atten­tion, ease-of-use, and the Mozil­la plat­form, for which peo­ple have been devel­op­ing exten­sions for ages (in com­put­er years).
The prospects are thrilling and the poten­tial for inno­va­tion is vir­tu­al­ly lim­it­less. Promis­ing­ly, there are some glimpses of where things might be head­ed for Song­bird media views: Cat­a­logue View demon­strates a nov­el visu­al pre­sen­ta­tion of your library, though it does­n't do much in the way of orga­ni­za­tion­al pre­sen­ta­tion; and Met­rics Media Page is the begin­nings of the kind of info­vis view that could be (but cur­rent­ly isn't) adapt­ed to allow for actu­al nav­i­ga­tion. Nev­er­the­less, I have a bad feel­ing that this oppor­tu­ni­ty will be missed, as the sta­tus quo con­tin­ues to obfus­cate these pos­si­bil­i­ties.
Update: Part II