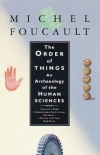 I read 14 pages of this book won­der­ing what in the hell he was talk­ing about, when final­ly it said "NOTES [I] See fron­tispiece," refer­ring me back to before the copy­right page, where the paint­ing he'd been describ­ing the whole time was hid­den. It was a real tri­al in imag­i­na­tion and a ring­ing tes­ta­ment that mine sucks.
This was last sum­mer, and I did­n't get much fur­ther before oth­er books inter­rupt­ed me. I'm back into it this week, but have decid­ed to put it down tem­porar­i­ly because that cov­er is just such a giant fuck­ing tragedy. Ordi­nar­i­ly I don't let things like that both­er me, but I mean look at that. I had to make an excep­tion.

When I was enter­ing it into Library­Thing, I noticed all the oth­er edi­tions, includ­ing the "User-Pro­vid­ed Cov­ers" at the bot­tom of the side­bar. Two of those were this green and blue thing, which puts the paint­ing on the cov­er, and does­n't look like shit — in fact it has this nice, vin­tage, first-edi­tion qual­i­ty. On faith, I took it to be the 1973 Vin­tage edi­tion, searched the ISBN on Book­Find­er, and ordered it used from Ama­zon (speak­ing of ugly) for $8, sur­prised that Ama­zon devotes pages to mul­ti­ple edi­tions of books so that you know which edi­tion you're buy­ing used.
I signed up for Library­Thing for­ev­er ago, but nev­er used it 'cause there's some­thing vain about man­u­al­ly cat­a­loging all the books you own for peo­ple to admire. It's kind of hard to stop once you get start­ed, but I did stop, some­where between all the books I love and all the books I've touched in the last year, which amounts to very lit­tle. Any­way, it can make rec­om­men­da­tions for you, which I sup­pose would be help­ful if you have about 200 items in your "library," and some­how still haven't heard of the books that are sim­i­lar enough to those that even a com­put­er knows you should read them. There are also a few very basic RSS feeds, and even though the sys­tem allows you to tell it when you begin and fin­ish each book you own, there isn't the stu­pid­ly obvi­ous feed of "Cur­rent Read­ing."
Anoth­er fail­ure of the site is that, even though you can enter your edi­tion's spe­cif­ic ISBN, it seem­ing­ly does­n't match user-uploaded cov­ers with that user's edi­tion's ISBN, so find­ing the edi­tion with the cov­er you want is just a lot of Googling and guess­work.
Inter­est­ing note: the illus­tra­tions on the ugly Fou­cault cov­er are by Gene Greif, an artist "whose wit­ty col­lage and mon­tage album-cov­er illus­tra­tions for CBS Records," accord­ing to The New York Times, "helped pop­u­lar­ize retro style of graph­ic design in 1980's [sic]," and who, inci­den­tal­ly, illus­trates those lit­tle squares at the top of the icon­ic Von­negut cov­er design. But, the illus­tra­tions them­selves not being that bad, the blame should more accu­rate­ly rest with Carin Gold­berg, the design­er of the cov­er, and prob­a­bly the one respon­si­ble for the stark, pas­tel, two-tone back­ground.
Also, I need to do some­thing about the blog sec­tion of this site. I don't know if it's the font, or the bor­ders on the pic­tures or what, but it real­ly rubs me the wrong way. In fact the whole thing is start­ing to get to me.