Only TWO days ago, cinematictitanic.com mys­te­ri­ous­ly appeared. Claimed to be authored by Joel Hodg­son, it goes on to say that he is return­ing to the mak­ing-fun-of-movies thing, along with Trace, Frank, Mary Jo, and JOSH WEINSTEIN. So I think some healthy skep­ti­cism would­n't be UNfound­ed.
Nev­er­the­less, Slash­dot, Ain't It Cool News, and doubt­less thou­sands of oth­er blogs are blow­ing up about it, and nobody's ask­ing any ques­tions. Just fawn­ing, ejac­u­la­to­ry cheer­ings-on.
The first thing you notice is how POORLY the page is designed. You even see a <meta name="author" content="John Stotler" /> in the source, that the domain is host­ed at GoDad­dy, and is reg­is­tered through a pri­va­cy proxy. Okay, fine, so these peo­ple have hired an ama­teur design­er. It's pos­si­ble.
But the announce­ment just resem­bles too close­ly every MST3K fan's wet dream. They're an easy tar­get for a prank like this. They've been chant­i­ng Joel's name con­tin­u­al­ly for over ten years now, beg­ging for him to come back. Pulling one over on peo­ple demon­strat­ing such obnox­ious behav­ior would be fun­ny. What if it even made it on Slash­dot? Or Wikipedia???
Besides the fact that it would be weird for all five of these peo­ple to be simul­ta­ne­ous­ly inspired to beat that dead horse, Joel left the show because he want­ed to dis­tance him­self from it. In a press release from 1993 he said,
It's time for me to hang up my red jump suit and move behind the cam­era. Besides, there's an old show busi­ness adage I once heard Adam West say: "Stay in the same cos­tume and before you know it, you end up sign­ing pic­tures at an R.V. show." Maybe it was Clay­ton Moore, now that I think of it.

I want to become a behind-the-cam­era guy. I want to get on to the NEXT weird show. I want to be an idea man.
The new site itself is ugly, yes, but more than that, it's very un-Joel-like through and through. Joel's a smart, cre­ative, fun­ny guy. Would he real­ly put his name behind such a stale, mean­ing­less name as "Cin­e­mat­ic Titan­ic"? With this logo?: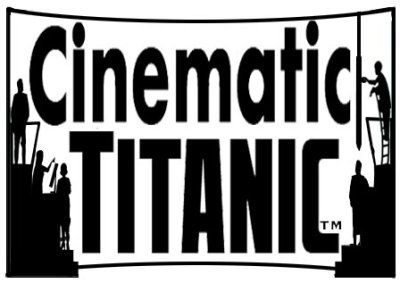 Would he real­ly say, "Our first release is at this time a total secret, how­ev­er – I'm will­ing to say it makes 'Manos the Hands of Fate' look like 'San­ta Claus Con­quers the Mar­tians' in a car wreck with 'Eegah!'"? These are the words of a fan, nam­ing his favorite episodes, not the words of a guy who want­ed to move on with his life, four­teen years ago.
The site also reads, "I've just been inter­viewed by Lucas­film online, in antic­i­pa­tion of Cin­e­mat­ic Titanic's first live show and world pre­miere in San Fran­cis­co in Decem­ber." Lucas­film online? Why haven't they been talk­ing about this? Would­n't an exclu­sive, rare inter­view with Joel Hodg­son about his new project be some­thing you might want to men­tion? Where in San Fran­cis­co is this pre­mier? Why haven't I got­ten a con­fir­ma­tion email for sign­ing up for the mail­ing list?