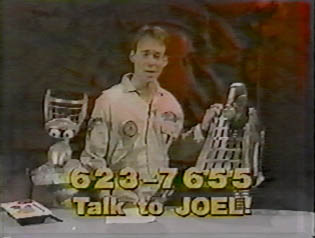 My life in the past few days has been over­tak­en by MST3K. I dis­cov­ered that there's a video ver­sion of Winam­p's Shout­Cast, with some chan­nels stream­ing tv shows 24 hours a day. Two of these chan­nels stream MST3K, and though the streams are usu­al­ly maxed out on view­ers, for $4 my IP is on the VIP list of this stream, which means unin­ter­rupt­ed MST3K until March 31.
When a KTMA-era mini-marathon was sched­uled last week­end, I knew I had to "tape" it. I prob­a­bly could have guessed that these episodes are read­i­ly avail­able via var­i­ous p2p out­lets, but I also would have guessed (right­ly) that the files are kept extreme­ly large for the sake of qual­i­ty. Ide­al­ly I want­ed to save video from the stream in very low qual­i­ty; near­ly all of an MST3K episode is sil­hou­ettes and bad movies any­way, so this could hard­ly be con­sid­ered "com­pro­mise."
The only pro­gram I'd heard of that might be capa­ble of cap­tur­ing stream­ing video was Stream­Box VCR, but from what I'd gath­ered it was rid­dled with legal issues and bugs. I've also had ter­ri­ble luck with video soft­ware in gen­er­al, so I was­n't hope­ful. But I quick­ly stum­bled upon Net Trans­port, "a faster, excit­ing, and the most pow­er­ful down­load­ing tool that you ever saw [sic, sic, sic]," light­weight and with no nags or spy­ware. I was amazed when with­in a few min­utes I was record­ing KTMA episode 5 in Shout­Cast's 128kbps, meg-a-minute .nsv for­mat.
Record­ing is still kind of a pain — it's very man­u­al so I inevitably lose a few sec­onds at the begin­ning of each episode if there's a quick turn-around; I can't know exact­ly when a par­tic­u­lar episode will start, so sched­ul­ing is out of the ques­tion; mem­o­ry short­ages have bro­ken the stream once or twice; and the sup­port lifes­pan and edit­ing capa­bil­i­ties of the .nsv for­mat are both ques­tion­able.
When I'm not fran­ti­cal­ly con­fig­ur­ing a record­ing ses­sion, I'm learn­ing a lot about the show I ditched bit­ter­ly after Joel left, curs­ing my mom for tap­ing over my Turkey Day col­lec­tion, sham­ing the ungrate­ful 14-year-old who took the show so for grant­ed, and try­ing to relive all the endear­ment and won­der that sur­round­ed the show and its fans. I found out that the MST3K Info Club still kind of exists, and I final­ly became a mem­ber, for what­ev­er that's worth. Best Brains put out a "Scrap­book Tape" in 1995 that boasts the most in-depth look at the show ever com­posed. And in the first episode of the tenth sea­son, when can­cel­la­tion had been made offi­cial, Joel briefly returned to the SoL: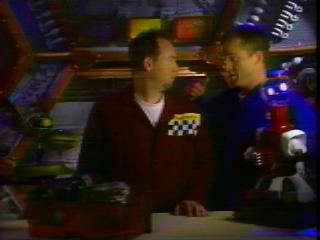 Eerie.
Some more links: