Recent­ly I got a Nexus One, which had me curi­ous to dis­cov­er the val­ue (if any) of loca­tion-shar­ing appli­ca­tions like Foursquare and Gowal­la. I had dor­mant accounts for both, and decid­ed to see who among my con­tacts were actu­al­ly using these things. I imag­ined not many.
Foursquare's friend find­er was straight­for­ward and I was able to add three or four peo­ple. Gowal­la's, on the oth­er hand, mis­led me into send­ing an invite to all 947 peo­ple in my Google con­tacts. This includes peo­ple I bought stuff from on Craigslist; old boss­es; old girl­friends; co-work­ers; prob­a­bly even prospec­tive employ­ers.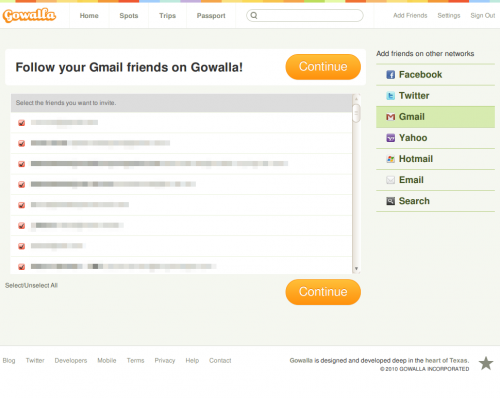 The trick was in mim­ic­k­ing a fair­ly stan­dard "Step 2" for­mat for these types of func­tions. It appears that I'm being pre­sent­ed two choic­es here: the first, to begin fol­low­ing only those con­tacts who are already on Gowal­la; the sec­ond, to send invite emails to all checked names in the list.
Instead, both but­tons do exact­ly the same thing. So when I clicked the but­ton at the top, an email was sent to every per­son on that list. There was no pop-up win­dow telling me, "You are about to send an email to 947 peo­ple. Con­tin­ue?"
For­tu­nate­ly I had­n't used my full name on my pro­file; the email peo­ple received came from no-reply@gowalla.com or some­thing sim­i­lar; and I delet­ed my pro­file as soon as I real­ized what had hap­pened. So hope­ful­ly I was­n't as incrim­i­nat­ed as I may have oth­er­wise been. I know I roll my eyes when­ev­er a friend has fall­en for an obvi­ous trap like that. And I like to think I'm pret­ty good at spot­ting these tricks. But this lay­out is out­right decep­tive.