There's a lot of FUD going around about your phone lis­ten­ing to every­thing you say and sell­ing that data to adver­tis­ers. This is wild­ly and irre­spon­si­bly mis­lead­ing.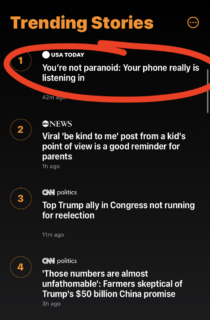 I can't speak for Android phones because those things are the Wild West of APIs and out­dat­ed OSes and mal­ware, so use Android phones at your own risk.
Here is the claim being made, in short:
Any third-par­ty (non-Apple) app you have installed on your iPhone can record and remote­ly save con­ver­sa­tions tak­ing place with­in earshot of your iPhone, even when the app isn't run­ning (in the fore­ground or in the back­ground), and even when the phone is sleep­ing.
This is patent­ly false. Third-par­ty iOS apps can only record audio when they are run­ning in the fore­ground or run­ning in the back­ground, and only if you have giv­en them per­mis­sion to do so. And even if you have grant­ed micro­phone access to the Face­book app, for instance, if you "kill" Face­book by swip­ing up on it in the app switch­er, Face­book is quit and can no longer access the micro­phone in any way.
Fur­ther, when third-par­ty apps are using the micro­phone, there is a big red bar with a micro­phone icon at the top of the screen of your phone in the sta­tus bar. There is as far as I know no way for devel­op­ers to pre­vent this from appear­ing.
In oth­er words, in order for any third-par­ty app to "lis­ten to you" through your iPhone:
That app must be run­ning, either in the fore­ground or the back­ground.
You must have explic­it­ly grant­ed that app per­mis­sion to access your micro­phone.
There will be a red micro­phone icon at the top of your screen.
If any of those three things haven't hap­pened or aren't hap­pen­ing, then that app is not lis­ten­ing to you.
---
How do I explain, then, all the anec­do­tal evi­dence that ads for cer­tain prod­ucts show up after peo­ple start shout­ing about mat­tress­es into their phones?
First, this is anec­do­tal and can­not be trust­ed. Nobody behind these arti­cles has even tried to mon­i­tor what domains are being pinged by their router in an attempt to deter­mine where all these record­ings are secret­ly being sent.
Sec­ond, if you come up with a ran­dom prod­uct cat­e­go­ry, and espe­cial­ly if that cat­e­go­ry is mat­tress­es (!!! The most adver­tised inter­net thing there is!), and you only start to notice ads for that prod­uct cat­e­go­ry after you've begun whis­per­ing the phrase, then this is like­ly a fail­ing of your per­cep­tion. We are all way, way more blind than we real­ize and fil­ter out 99% of our sur­round­ings. If you say "I swear I nev­er saw an ad for t‑shirts before this!," that is a com­plete­ly unre­li­able claim.
Third, adver­tis­ers already know tons and tons about you just from your brows­ing habits. They don't need to lis­ten through your phone's micro­phone. Face­book and Google already know every site you vis­it as well as in what things the peo­ple in your demo­graph­ic are inter­est­ed and prob­a­bly talk­ing about with you and your friends.
All this anec­do­tal evi­dence is coin­ci­den­tal.