There's a lot of FUD going around about your phone listening to everything you say and selling that data to advertisers. This is wildly and irresponsibly misleading.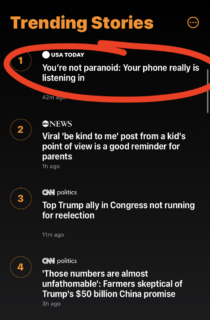 I can't speak for Android phones because those things are the Wild West of APIs and outdated OSes and malware, so use Android phones at your own risk.
Here is the claim being made, in short:
Any third-party (non-Apple) app you have installed on your iPhone can record and remotely save conversations taking place within earshot of your iPhone, even when the app isn't running (in the foreground or in the background), and even when the phone is sleeping.
This is patently false. Third-party iOS apps can only record audio when they are running in the foreground or running in the background, and only if you have given them permission to do so. And even if you have granted microphone access to the Facebook app, for instance, if you "kill" Facebook by swiping up on it in the app switcher, Facebook is quit and can no longer access the microphone in any way.
Further, when third-party apps are using the microphone, there is a big red bar with a microphone icon at the top of the screen of your phone in the status bar. There is as far as I know no way for developers to prevent this from appearing.
In other words, in order for any third-party app to "listen to you" through your iPhone:
That app must be running, either in the foreground or the background.
You must have explicitly granted that app permission to access your microphone.
There will be a red microphone icon at the top of your screen.
If any of those three things haven't happened or aren't happening, then that app is not listening to you.
---
How do I explain, then, all the anecdotal evidence that ads for certain products show up after people start shouting about mattresses into their phones?
First, this is anecdotal and cannot be trusted. Nobody behind these articles has even tried to monitor what domains are being pinged by their router in an attempt to determine where all these recordings are secretly being sent.
Second, if you come up with a random product category, and especially if that category is mattresses (!!! The most advertised internet thing there is!), and you only start to notice ads for that product category after you've begun whispering the phrase, then this is likely a failing of your perception. We are all way, way more blind than we realize and filter out 99% of our surroundings. If you say "I swear I never saw an ad for t-shirts before this!," that is a completely unreliable claim.
Third, advertisers already know tons and tons about you just from your browsing habits. They don't need to listen through your phone's microphone. Facebook and Google already know every site you visit as well as in what things the people in your demographic are interested and probably talking about with you and your friends.
All this anecdotal evidence is coincidental.