Fire­fox 3 is sched­uled to be released lat­er this fall; I haven't real­ly been fol­low­ing its devel­op­ment, but one thing I have heard about and am excit­ed about is its (or, more accu­rate­ly, Gecko's) new graph­ics library, Cairo.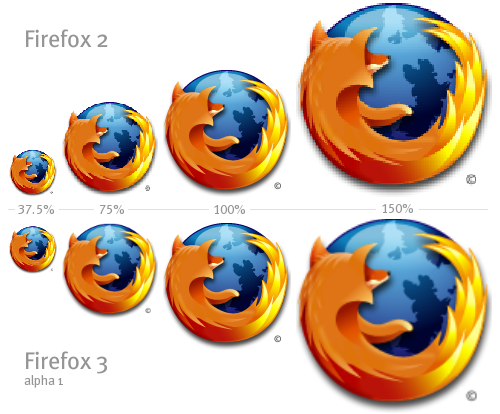 First I heard that it would resam­ple rather than sim­ply rescale images, as demon­strat­ed in the image above (via Acts of Voli­tion).
Lat­er I learned that it will also ren­der fonts more smooth­ly. I enjoy the soft way pages look in Safari for Win­dows, the result of a dif­fer­ent ren­der­ing engine, WebKit, so this is some­thing I'm real­ly look­ing for­ward to. Here's an exam­ple of Cairo's font ren­der­ing, as seen in Camino 1.2+ for Mac, via hicks­de­sign: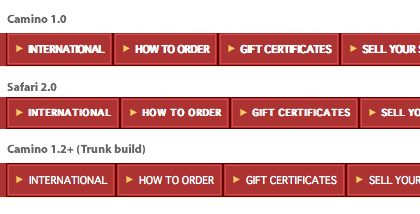 There are very spe­cif­ic rea­sons for the inten­tion­al dif­fer­ences in these approach­es to font ren­der­ing. It's a mat­ter of per­son­al pref­er­ence, and I think my pref­er­ence will be for Cairo. Some are floored by the supe­ri­or­i­ty of WebKit, and design­er Jef­frey Zeld­man makes a sol­id, objec­tive case for it; oth­ers are hor­ri­fied.
Final­ly, Geck­o's non-stan­dard CSS attribute -moz-bor­der-radius, a pre­cur­sor to CSS3's bor­der-radius attribute, will make image-less round­ed div cor­ners easy and pret­ty (via Acts of Voli­tion):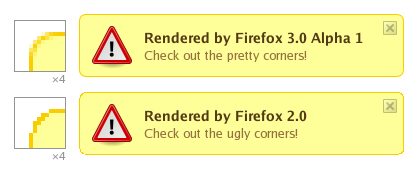 I would have post­ed screen­shots of my own, but I don't trust these alpha builds not to eff things up.