Fre­quent­ly described as "Love­craft­ian" or "Cthul­hu-inspired," Zal­go actu­al­ly bears a clos­er sim­i­lar­i­ty to Shub-Nig­gu­rath or Yog-Sothoth, the lat­ter described by Love­craft as resem­bling
pro­to­plas­mic flesh that flowed black­ly out­ward to join togeth­er and form that eldritch, hideous hor­ror from out­er space, that spawn of the blank­ness of pri­mal time, that ten­ta­cled amor­phous mon­ster which was the lurk­er at the thresh­old, whose mask was as a con­geries of iri­des­cent globes, the nox­ious Yog-Sothoth, who froths as pri­mal slime in nuclear chaos beyond the nether­most out­posts of space and time!
It is a man­i­fes­ta­tion of a ter­ror that is based on insan­i­ty and chaos rather than ordi­nary mor­tal dan­ger — comics, of course, being an apt tar­get for this idea, as their inno­cence and rel­a­tive shal­low­ness make for an espe­cial­ly jar­ring jux­ta­po­si­tion.
Weird­ly, Stephin Mer­ritt of The Mag­net­ic Fields wrote a song about Yog-Sotheth with a side-project he called "The Goth­ic Archies," a bizarre coin­ci­dence giv­en that the first known Zal­go cre­ations involve Archie comics.
First con­ceived by Some­thing Awful mem­ber "Shmorky" in 2004 as grim mod­i­fi­ca­tions of old com­ic strips, it was embraced by oth­er mem­bers of the forum. After remain­ing in obscu­ri­ty for sev­er­al years, Zal­go appears to have resur­faced in a pair of Some­thing Awful threads (1, 2) mock­ing the web­com­ic Ctrl+Alt+Del, where the prac­tice of Pho­to­shop­ping cer­tain strips even­tu­al­ly evolved into "Zal­go edits," begin­ning I believe with this post (Google cache) by mem­ber Dammerung in Octo­ber 2008.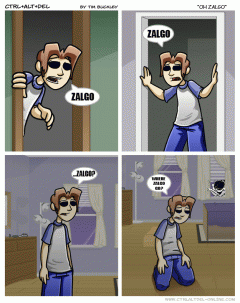 A con­ve­nient sum­ma­ry of all these Pho­to­shops was com­piled in this post (Google cache).
The blog Grim Reviews post­ed an overview of the phe­nom­e­non short­ly after its fall 2008 res­ur­rec­tion. The meme sub­se­quent­ly flour­ished on 4chan. A b3ta.com forum mem­ber named Evilscary cred­its him­self with some of the more pop­u­lar and more recent Garfield Zal­go comics, writ­ing in his pro­file:
I seem to be respon­si­ble for the recent surge of ZALGO that has engulfed the inter­net.
I did­n't cre­ate ZALGO (indeed, he cre­at­ed him­self in a tor­rent of dark­ness and cor­rup­tion) but I cer­tain­ly aid­ed in reviv­ing his fol­low­ing.
And because Inter­net loves Garfield par­o­dies, it was­n't long before Zal­go became pop­u­lar and there­fore no longer fun­ny. One Some­thing Awful mem­ber even noticed a ref­er­ence to it (Google cache) in the game Space Trad­er.
Maybe most respon­si­ble for the curios­i­ty around Zal­go is the pro­lif­er­a­tion of weird Uni­code dia­crit­ics that accom­pa­ny more recent Zal­go-bab­ble, which cre­ates the illu­sion that what­ev­er Zal­go is, it is now direct­ly affect­ing your com­put­er and that by Googling it you have intro­duced it into your home. Try it and you'll see what I mean. I'm pret­ty cer­tain 4chan is respon­si­ble for this clever twist on the idea.
With the increased pop­u­lar­i­ty of Zal­go, some­one has come for­ward claim­ing to have thought it up in 1998 as "sim­ply encroach­ing dark­ness" before infect­ing var­i­ous forums with the idea in 2003, though most peo­ple aren't tak­ing this claim seri­ous­ly.
As a side-note it also reminds me of the 1997 film Event Hori­zon, whose "antag­o­nist" is some extra-dimen­sion­al realm of pure chaos.
More Zal­go resources include: