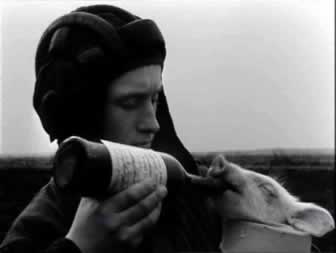 Click the image for the full pho­to mon­tage.
I first encoun­tered this last year on WFMU's blog, and despite being curi­ous of its ori­gins, the inter­net has trained me to accept con­tent with­out con­text. Fun­ny pic­tures, drunk pig, pass it on. Nei­ther the WFMU post, nor the blog they got it from even ask where this came from. But who cares — find it, blog about it, Digg it, make a YTMND about it, a YouTube spin­off, and move on to the next meme.
But there's some­thing clear­ly artis­tic about these images. They're too per­fect. And they depict such a car­i­ca­tured past that you sus­pect they may have been tak­en recent­ly. And, as not­ed in the com­ments that I did­n't both­er to read until today, they were.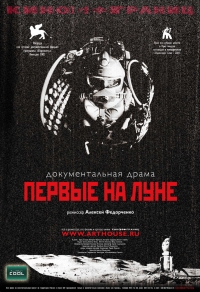 They're stills from a 2005 Russ­ian mock­u­men­tary called Per­vye na lune, or First on the Moon, which actu­al­ly looks good, its premise approach­ing what you might have expect­ed if you spec­u­lat­ed enough about the intent of those pho­tos. From the film's offi­cial site, as trans­lat­ed by Google:
You can argue long, the Amer­i­cans were on the Moon or not, but there are facts that prove con­vinc­ing­ly : Sovi­et sci­en­tists were able to run the first air­craft into space as ear­ly as March 1938. Infor­ma­tion more than con­vinc­ing, and at this time Russ­ian cos­mo­nauts ahead of the Amer­i­cans …
It's not on Net­flix yet, but I hear it's on Kara­gar­ga, the invite-only avant-garde film tor­rent track­er, which means it may soon make it to art tor­rents or gpod. There are also sev­er­al copies on eBay, but I can't be sure they have sub­ti­tles, or are even com­pat­i­ble with Amer­i­can DVD play­ers.
Read more about it: