Collecting my thoughts here…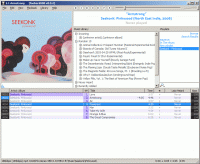 So, ironically, music is becoming increasingly difficult for me to listen to. As though worrying about an extensive gauntlet of tagging procedures isn't enough, I just have too much damn music. Browsing alphabetically through upwards of 500 artists is not the best way to go looking for something when you have no idea what you want to hear.
I've auditioned various methods of tweaking foobar to 'deliver' music to me more or less automatically, and I'm close to having something ideal. The playlist tree component allows for dynamic tree structures (which, unfortunately, can only be rebuilt manually or every time a new song begins); using the titleformatting language, I've generated five queries whose purpose it is to 'coax' certain albums to starker visibility from the featureless and indifferent music library, to greater or lesser success.