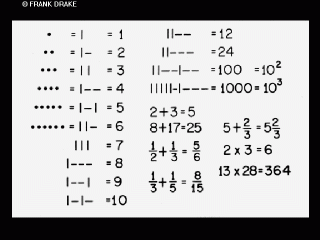 I am kind of a science geek, but really this is about being a sociology geek.
In 1977, NASA launched two "intrepid" Voyager spacecrafts. Their primary purpose was to photograph distant planets from ranges never before achieved. It succeeded beautifully, but of more interest to me is the secondary purpose of this mission.
After passing Pluto (or Neptune?), what's left to do with the most distant object we've sent into space? Obviously, propel it to a speed of one million miles per day and hope it reaches some alien society. But what do you send to an alien society?
Why, "Johnny B. Goode" of course!
NASA included a "Golden Record" aboard the Voyagers, complete with stylus, containing music, images, and personal greetings. These contents are additionally valuable to us as they force us to consider and appreciate the most universal of human mores, as demonstrated by some of my favorite images:
The choices of what to include range from the super-technical to the super-banal, but ordinarily inconspicuous details like our base-ten counting system become so genuinely and overwhelmingly profound in this context. Not to mention the enthusiasm and optimism required to include such indecipherable speech as "Hello from the children of planet Earth."
Extra double special thanks to the WFMU blog for indirectly leading me toward this site.