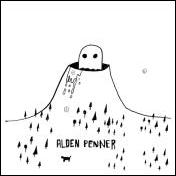 UPDATE, APRIL 12: Added mp3
Late, late, late last night I learned that Alden Ginger recently released his own 7″ under the moniker Alden Penner. The A-side is brand new, recorded on some leg of The Unicorns' epic 2004 tour, and the B-side is old favorite "We are fighting the demons of Côte St-Paul" (mp3, 3.34MB), originally released by Alden via New Music Canada, presented here as "L'Espair." Read this hilarious review on Cokemachineglow.com, then order the single from the link at the bottom of the page; it's $15 US (including shipping), comes with a box of crayons, and is limited to 100 pressings.
If for some reason you care what Nick and J'aime are up to, read this article. mp3s of "Th' Corn Gangg"-curated shows become more readily available on SoulSeek every minute.
Be sure to visit The Secret Unic-c-corns Forum while you're at it, the not-so-underground replacement for the official site, which has met the fate ordained for all things Unicorn: a sudden and mysterious death.