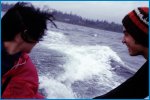 Did you think the Unicorns saga could possibly continue? Neither did I. But thanks to the always-amazing Internet Archive, I discovered that Alden Ginger's New Music Canada site (which is also defunct) was once the All Makes Parts & Collision site. I know, I thought they were on ZeBOX too. Anyway, in addition to conclusively settling the ampersand as the proper conjunction, the site reveals some brand new song titles, including "id didnt know" and "Let's Get Strong." Chances are I already have these, but I'm anxious to apply the titles to two of the five still untitled AMP&C songs I have. But when the songs have been pulled from NMC and there are no track durations listed, what do you do? You're forced to email the given address. This isn't The Unicorns' address, so it's either sitting idly, going unchecked, or it will actually allow me to reach Alden Ginger.
Now, emailing someone whose blisteringly accelerated fame in 2004 led to the rumored break-up of his band is kind of a delicate issue, especially when you're emailing him about some very, very rare bootlegs that he probably doesn't want you to have. You have to be polite, to demonstrate that you are a true fan, to be non-obsessive, but to get your foot in the door for either (a) track durations or (b) actual mp3s. Neither of these outcomes are remotely likely. Still, I had to try:
Date: Thu, 3 Mar 2005 13:16:09 -0500
Subject: zzzzzzzzzzzzzzzzzzzzzzz

hey, am i writing an email to alden ginger? if so, i love all your stuff, the unicorns stuff, and i really love your solo stuff too. that song "soon" that was hosted on new music canada is really brilliant and beautiful i think, i put that on mix cds all the time. anyway i got this email address from an old amp&c site on new music canada, so i thought i'd send a note. what's up with those songs on there, "id didn't know," "oh leopold," and "let's get strong"? i'd be really interested to hear those, are you gonna host them somewhere else ever?

anyway thanks tons and tons for all the music you've made. keep sweet.

-jay
I should note that "Zzzz" is the name of one of The Unicorns' side-projects, and that "keep sweet" is the signature frequently used by The Unicorns themselves in forums and on t-shirts.
The site also lists a mailing address for "Pony Expert," AMP&C's purported label, so of course a formal letter is in order:
March 3, 2005

Pony Expert
3872 Barclay Rd
Campbell River, BC
CANADA

Dear Pony Expert,

I would like information about the band All Makes Parts & Collision, including how I may purchase some of their records. Thank you,

Justin
Awaiting replies.
All these sparse and fleeting Unicorns gems are really motivating me to do some careful archiving of my own.