Update: Read my take on the preview of Maverick's new Light themes here.
Let's start with the good.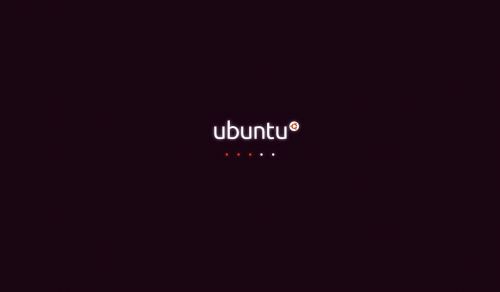 The new logo, while not perfect, is acceptably good. Certainly palatable, with a stronger connotation that this is an operation system to be taken seriously.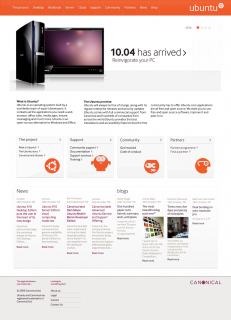 The new homepage is what conveys Ubuntu's new "brand" most effectively. It's clear here that they are identifying themselves with orange and purple (although which orange and purple isn't consistent — more later). Yes, there's something generic about it, but in a way that's familiar and fresh. For all the talk of "lightness" with this new branding, the homepage is what embodies it the most. Compare to their current homepage, which is bleak and dismal. The new one looks a bit like the Apple homepage, admittedly, but only because they both adhere to some current web design motifs. To say that it's imitating Apple's homepage would be unfair.
Now, the bad. And there's a lot of it.
What is your orange? Is it #ef5a29 (as it is on the homepage), #f37936 (as it is in the orange logo), or #e54b00 (as it is in the "spread ubuntu" logo)? And why is "spread" still in the old Ubuntu font? Of course, these color issues may have to do with having saved images with weird color profiles. I can't be sure. But get it together.
Ok. It gets worse.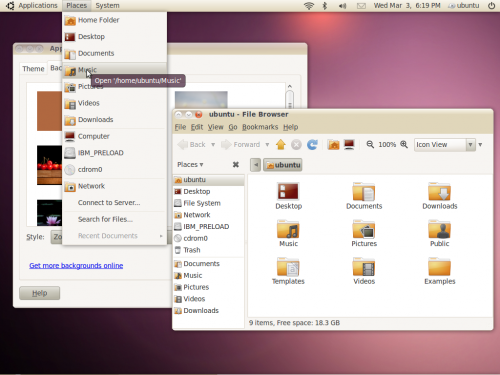 Take a look at this abomination. I want you to really look at it. There's a lot to consider. Let's get started.

The buttons. They're on the left. This makes sense, actually, since the system notifications being in the upper-right of the screen was a huge obstacle — why, I'm not exactly sure, since you can perform clicks on anything underneath a notification bubble, but it was a serious consideration among Canonical's Notify-OSD developers. This solves that problem — at the expense of forcing users to learn new behaviors, maybe, but I don't see it as such a serious outrage. In any case I'm not here to talk usability. (But where's the menu button?)
Why the inconsistency in the depth of the buttons? The close button is more spherical and glossier than the other two, even a bit translucent (since its highlight extends to its bottom side). And the buttons are not evenly spaced — the minimize button is closer to the close button than it is to the maximize button. This is especially noticeable (and, in fact, literally more pronounced, pixel-for-pixel) in the inactive window. Are these just mockups?, or working GTK themes?: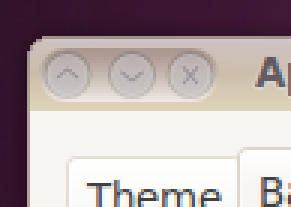 Not only that, but the '×'s appear to be different, with the lines of the inactive × being oblique, and those of the active × being perpendicular. And here's another color for you: #e24912. Where'd that come from? Let's take a closer look at it:
Why not make it orange? It's a sickly red, and with the reflection/refraction of light takes on the appearance of a pimple.
The buttons are also resting in a little reservoir. Because of its size, it cramps the buttons against its edges. Two pixels of padding would have done wonders. The reservoir also adds unnecessary visual noise, something you see a lot of in the more garish themes from GNOME-Look. You almost feel as though they were absent the reservoir at first, then decided that the buttons had become uncomfortably similar to those of Mac OS X, and threw the reservoir in there to solve that problem. This is a trend among the new theme, actually: the ad hoc method of solving problems the designers have created.
Let's take a look at the title bar and menu bar.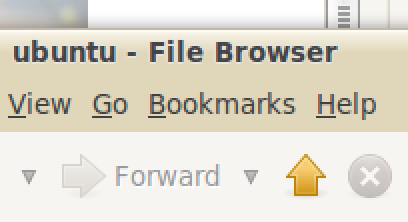 There is more space between the titlebar text and the menubar text than there is between either line of text and its upper or lower edge. The reason for this is that most previous themes had a titlebar that was a different color than the menu bar; so what you're seeing would actually be an appropriate amount of space, if there were a visible distinction between the two bars. Since the text from both bars now occupies the same visual area, this creates a huge problem. The titlebar text, especially, feels crammed up against the top of the window. Even simply reducing the padding at the top of the menubar would help alleviate this problem; but again, that's the wrong approach. Encountering a problem like this means that it needs to be solved at a more fundamental level. Especially when it comes to the default theme of your OS.
And while we're looking here it's a good time to talk about the harsh gradient that's put at the top of these windows. This indicates a strong curve away from the user. Why? For what? For some depth, surely, but there are more subtle ways to achieve depth without making your windows appear to be half a centimeter thick. They want this to feel "light," and yet are creating the illusion of bulky molded plastic. It's a lamentable acquiescence that only adds to the visual noise already begun by the button reservoir.
Let's move down to the breadcrumb buttons in Nautilus:

Where is the source of light here? The "back" button is lit from the left, but the folder button is lit from above? And the distinction between pressed and not pressed is barely pronounced.
Alright. Let's back up again.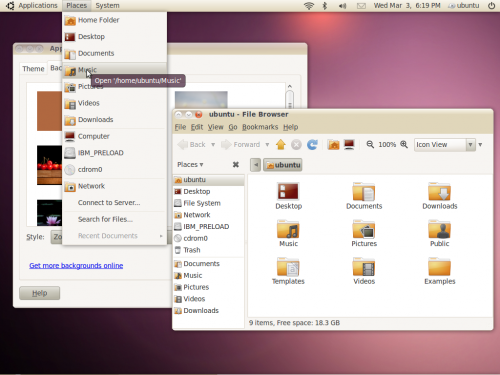 Okay, what? The wallpaper? Here it is in full as taken from the homepage Web Upd8 (thanks):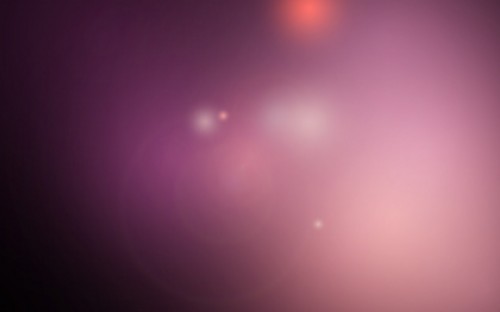 What are we looking at? Okay, it's some abstract blobs with some lens flare. Some have compared it to vomit, and the reason is obvious: that unnecessary afterthought of a salmon highlight in the upper-right. Again, they were working with a wallpaper, and decided, "Shit, y'know what? We should put some orange in there." Gradient, boom, done. And, again — looks like a throbbing pimple. No concern for color harmony whatsoever. And, yes: abstract purple gradients are going to get you OS X comparisons. It's deserved.
The iconset stays at Humanity, which is suddenly completely out of step with the rest of the entire desktop. At least the tooltips are pretty nicely done.
Obviously, yes, I'm mostly complaining about no more than several pixels and degrees of hue here. But this is what design is. What I really hope this new theme demonstrates is this: brown was not the problem. It was its execution that pissed everybody off. Brown/yellow/orange/crimson is a beautiful color scheme from which to work, and Canonical's design team could have turned it into something that blew everyone away. I hope that this new direction wasn't a reaction to those persistent, uninformed complaints over the years, but I imagine it may have been. There's probably more to be said, but I'll stop here.
Read more reactions to this change: